(18 March 2013)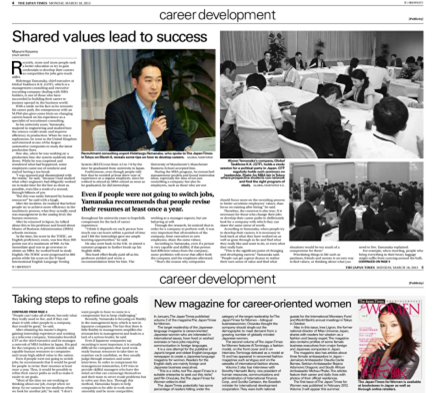 ¡Recently, more and more people seek a better education or try to gain credentials to develop their careers as competition for jobs gets much stiffer.
Hidetsugu Yamanaka, cheif executive at Global Taskforce K.K.(GTF), which is a management consulting and executive recruiting company dealing with MBA holders, is one of those who have succeeded in building their career to journey upward in the business world.
With a smile on his face as he recounts his career path, the entrepreneur with an M.Phil also gives some hints on changing careers based on his experience as a specialist of recruitment consulting.
In his university years, Yamanaka majored in engineering and studied how the science could create and improve efficiency in production. When he was a sophomore, he went to the United Kingdom and interned at one of the largest automotive companies to study the latest production lines.


¡One day, when he was working on a production line, the system suddenly shut down. While he was surprised and wondered what had happend, some employees came out of nowhere and started having a tea break.
"I was stunned and disappointed with the reality", he said, "because I had studied what other engineers had diligently worlkd on to make time for the line as short as possible, even like a tenth of a second, through billions of yen. "But this was easily betrayed by human resources!" he said with a laugh.
After the incident, he realized that before people try to achieve more efficiency in the mchinery process, what they actually need was management in the analog level, the human resources. After he return to Japan, he talked about this to his professor and heard about Master of Business Administration (MBA) schools overseas.


¡At the time, his score in the TOEIC, an English proficiency exam, was less than 300 points out of a maximum of 990. As his immediate goal was to go overseas to obtain an MBA, he worked hard to study English. His TOEIC score progressed to 865 points while his score on the 9-band International English Language Testing System (IELTS) rose from 4.5 to 7.0 by the time he graduated from university in Japan.
Furthermore, even though people told him that he needed at least three years of experience as a regular employee, since he wished to attend an MBA school as soon as he graduated, he did internships throughout his university years to hopefully compensate for the lack of career experience. "I think it depends on each person how much learn within a period of time and I felt the internships gave me ample learning opportunities", he said.
He also went back to the U.K. to attend a summer program to further brush up his English skills. This hard effort finally paid off as his professor yielded and wrote a recommendation letter for him. The University of Manchester's Manchester Business School accepted him.

¡During the MBA program, he researched management models and found interesting ideas, especially the idea of not just controlling a company but also its employees, such as those who are not working as manager expects, but are behaving at will. Through the research, he noticed that in order for a company to perform well, it was very important that all members of the company, from executives to new employees share the same values.
According to Yamanaka, even if a person is very capable and skillful, if that person had different values from the company, some problems will occur that affect both the company and the employee afterward.
"That's the reason why companies should focus more on the recruiting process to better scrutinize employees' values, than focus on training after hiring", he said. Therefore, the converse is also true: It is necessary for those who change their jobs or develop their career paths to deliberately look for a company with which they can share the same sense of worth. According to Yamanaka, when people try to develop their careers, it is necessary to look back at what they have worked on as well as gone through so far and find what they relly like and want to do, or even what they really hate.
"This is the significant point of changing and developing careers", Yamanaka said. "People can get a great chance to realize their own sense of value and find what situations would be too much of a compromise for them". Prioritizing things in life such as pastimes, friends and money is an easy way to find values, or thinking about what you need to live, Yamanaka explained. For example, when traveling, people who bring everything in their heavy luggage might suffer from carrying around the bulk. "People can't take all of them, but only what they really need to live, and if they can share it with other people in a company, that would be great," he said.

¡After obtaining his master's degree, gaining internship experience and working at a telecoms company, Yamanaka founded GTF as the chief executive and he manages a network of MBA holders in Japan. His goal for the company is to provide suitable and capable human resources to companies and create high added value to the nation. Even if people were not going to switch jobs, he recommends that it would be good for people to revise their resumes at least once a year. Thus, it would be possible to refine their career paths as well as make it easier to set goals.
"Most of the time we are working or thinking about our job, except when we sleep. So we cannot be too studious when we look for another job" he said. "I don't want people to have to come to a compromise but to keep challenging."
Recently, Yamanaka is focusing on fluidity in the management layer, which is rare in Japanese companies. The fact that there is little fluidity in management amplifies the mismatches in management and leads to a lack of a serious leader, he said. Even if Japanese companies say recruiting is most important, it is actually difficult for companies that need work-ready human resources to take time to examine each candidate, so they usually judge through resumes and some interviews. In order to compensate for management mismatches, GTF tries to provide skillful managers who have the mind-set that can encourage themselves and their team to never evade problems but to solve any they face. Through this method, Yamanaka hopes to help companies to be able to work more smoothly and be more competitive.
(Mayumi Koyama, Staff writer, Japan Times 18 March 2013)